Gusto

razionale,

forme

pure,

contaminazioni

e

integrazioni

stilistiche
sono il filo conduttore della filosofia progettuale
Plus Concept Studio
coniuga architettura, progettazione d'interni e design.
Nasce nel 2013, dopo un percorso decennale come libero professionista, da un'idea di Alessandro Veneri, architetto laureatosi nel 2003 presso il Politecnico di Milano (IT).
Gusto razionale, forme pure, contaminazioni e integrazioni stilistiche, sono il filo conduttore della filosofia progettuale maturata. Architettura residenziale, ristrutturazioni, interni di abitazioni e di locali pubblici (bar, ristoranti, negozi), progettazione e design di componenti d'arredo su misura, graphic & visual art per brand di moda, sono i settori nei quali trova espressione l'esperienza conseguita nel corso degli anni e sviluppatasi anche grazie a collaborazioni dirette con diversi studi di architettura e professionisti del settore, tra il 2004 ed il 2012.
Con Arteas Progetti (Reggio Emilia), dal 2004 al 2009, nel settore della progettazione architettonica residenziale e pubblica, con Giuliano Nobili nel settore della progettazione di interni per i negozi Max Mara "Week End" di Parigi, Budapest, Napoli, Trieste, e con Simon Home nella progettazione di locali pubblici.
Un percorso professionale che, toccando diversi campi del mondo dell'architettura e dell'interior design, ha contribuito allo sviluppo di una conoscenza in grado di operare in molteplici direzioni all'interno del mondo della progettazione. Dalla gestione del processo edilizio esterno di un edificio, agli spazi interni, dalle finiture materiche fino al concept di elementi d'arredo, soprattutto attraverso il design su misura di singoli mobili.
Dal 2015 con Sara Sacchini, architetto laureatasi nel 2008 presso l'Università di Parma (IT), con alle spalle un'esperienza lavorativa nel mondo della moda e grazie all'aiuto di diversi collaboratori, lo studio, nato a Guastalla (RE), è cresciuto nel corso degli anni e dal 2016 ha una sede operativa anche a Reggio Emilia, dove è iniziata la collaborazione con Roberta Pedrini, architetto laureatasi nel 2008 presso l'Università di Parma (IT), con esperienza decennale all'interno dello studio di architettura Arteas Progetti (RE).
Plus Concept Studio
combines architecture, interior planning and design.
It was founded in 2013, by Alessandro Veneri, an architect, after a ten-year career as a freelancer who graduated in 2003 from the Politecnico di Milano (IT).
Rational taste, pure forms and stylistic modifications and integrations are the guiding principle of mature design philosophy. Residential architecture, renovations, home and public spaces (bars, restaurants, and shops), planning and design of custom-made furnishings, graphic & visual art for fashion brands are the sectors in which the experience is gained over the years and also developed thanks to direct collaborations with several architects and industry professionals between 2004 and 2012.
With Arteas Progetti (Reggio Emilia), from 2004 to 2009, in the field of residential and public architectural design, with Giuliano Nobili in the field of interior design for Max Mara "Week End" stores in Paris, Budapest, Naples, Trieste and with Simon Home in design of public places.
A professional journey that, by touching different fields of the world of architecture and interior design, has contributed to the development of a knowledge capable of operating in multiple directions within the world of design. From the management of the external construction process of a building, to interior spaces, from the material finishes to the concept of furnishing, especially through the custom design of every individual furniture piece.
Since 2015 in collaboration with Sara Sacchini, an architect graduated in 2008 from the University of Parma (IT), with work experience in the fashion world and thanks to the help of several collaborators, the studio, which was founded in Guastalla (RE), has grown over the years and since 2016 has an operational branch in Reggio Emilia, where started the collaboration with Roberta Pedrini, an architect graduated in 2008 from the University of Parma (IT) with a ten-year experience within the architectural firm Arteas Progetti (RE).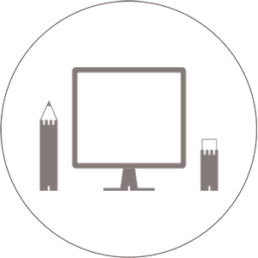 PROGETTAZIONE
Soluzioni per la realizzazione di spazi innovativi
CREATIVITÀ
Idee in grado di soddisfare ogni esigenza
EQUILIBRIO
Coniugazione di estetica e funzionalità